The Case of Ana Mendieta by Gillian Sneed
Symposium and Exhibition Review - October 12, 2010
Please click here to read the review
Where is Ana Mendieta? - A Revisitation of the Artist's Life and Work by Krista Miranda
Please click here to read the review
Where is Ana Mendieta? - Essay by Richard Move. Women & Performance, Issue 21.2.
Please click here to read the essay and to purchase the journal.

The Fales Library and Special Collections and The Department of Performance Studies, Tisch School of the Arts, New York University Present
Where is Ana Mendieta?* 25 Years Later - An Exhibition and Symposium

Curated by Richard Move
Cuban-American artist Ana Mendieta (1948-1985) played a vital role in the development of multidisciplinary, feminist art.  September 8, 2010 marks 25 years since her fatal fall  from the window of the 34th floor apartment she shared with her husband, the sculptor Carl Andre. The Exhibition and Symposium explore vital aspects of Mendieta's iconoclastic earth, body, performance, site-specific and visual art works, while addressing her influences, legacy, and the era of feminist art from which she emerged.
The Symposium: Thursday, October 7, 2010 at 7pm
The Department of Performance Studies
721 Broadway, 6th Floor, Room 612 FREE. 
Non-NYU affiliates please RSVP to PSLectures@gmail.com
A reception will follow at the Tracey/Barry Gallery
Symposium Panelists:
Kat Griefen – Director, A.I.R. Gallery
Genevieve Hyacinthe - Assistant Professor, Purchase College (SUNY)
Jose Esteban Munoz - Chair, NYU Department of Performance Studies
Carolee Schneemann - Multidisciplinary Artist
Diana Taylor – University Professor, NYU and Founding Director, Hemispheric Institute
The Exhibition: August 1 – October 8,  2010
The exhibition includes Mendieta's works with archival documents from the A.I.R. Gallery Archives, courtesy of the Fales Library, and the film BloodWork - The Ana Mendieta Story by Richard Move.
The Fales Library and Special Collections
Tracey/Barry Gallery
70 Washington Square South, 3rd Floor 
Monday-Friday, 10am-5pm
* The Women's Action Coalition mobilized approximately 500 protestors outside the Guggenheim Museum in Soho on its opening day in 1992, where Carl Andre's works were on display.  A group held a banner that read, "Carl Andre is in the Guggenheim. Where is Ana Mendieta?" In addition to this action outside, some protestors infiltrated the invitation-only Gala opening and dropped copies of a photograph of Mendieta's face onto Andre's floor sculptures.
Co-sponsored by: CLACS - The Center for Latin American and Caribbean Studies, CSGS - The Center for the Study of Gender and Sexuality, The Department of English, Grey Art Gallery - New York University, Hemispheric Institute and Women & Performance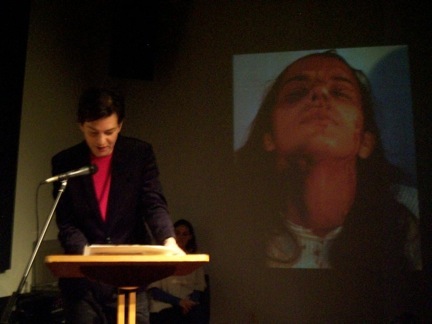 Richard Move, Exhibition Curator and Symposium Producer
Photo by Gillian Sneed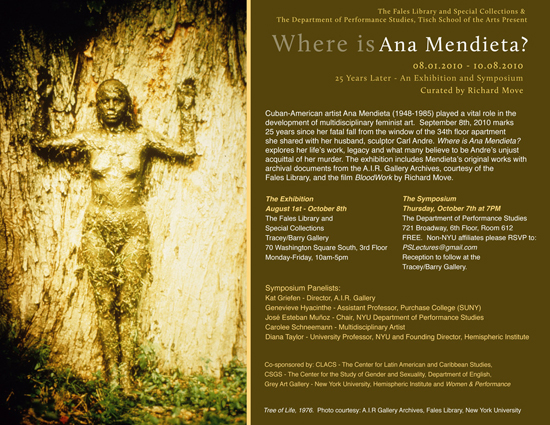 HOME