Baryshnikov Dance Foundation Presents;
THE SHOW (Achilles Heels)
PERFORMERS and COLLABORATORS

DEBORAH HARRY (Athena, Composer and Performer) 2006 marks the 30th Anniversary of Blondie and the band's induction into the Rock and Roll Hall of Fame. Before Blondie, punk and disco were enemies, pop and reggae were strangers and rock and hip-hop were at war. Through groundbreaking songs, Blondie changed all that and its influence on the generations of artists that followed, is undeniable. They were the first group to emerge from New York's new wave/ punk renaissance with an album,1976's Blondie, the first to chart a #1 single, a revolutionary blend of punk and disco,"Heart of Glass" and the first to top the charts with both a rap song, "Rapture" and a reggae hit, "The Tide is High".
And now, Blondie have added to their legacy by being selected for induction into the Rock and Roll Hall of Fame, as one of two first-time nominees (Miles Davis is the other). Blondie began in the late 70's and became the most successful band to emerge from the New York New Wave and Punk scenes, having sold over 50 Million records worldwide.
The original Blondie was formed by art student/guitarist Chris Stein and Max's Kansas City waitress and Playboy bunny, vocalist Deborah Harry. Stein and Harry discovered the now famous rock drummer Clem Burke and later found Keyboardist Jimmy Destri. The current Blondie lineup includes Harry, Stein and Burke, along with bass guitarist Leigh Foxx, guitarist Paul Carbonarra and keyboardist Kevin Patric. The band initially toured opening for Iggy Pop and David Bowie. Blondie soon became an international phenomena, with hit albums featuring such singles as 'X Offender", "In The Flesh", "Denis", "(I'm Always Touched By Your) Presence, Dear","Rip Her To Shreds", "Picture This", "Hanging on the Telephone","One Way or Another", "Sunday Girl", "Dreaming", "Union City Blue", "Atomic","Call Me," (Theme from 'American Gigolo') "War Child" and "Island of Lost Souls".
Deborah Harry quickly became both a music and fashion Icon and one of the most photographed women in the world and appeared everywhere from "The Muppet Show", to the hostess of "Saturday Night Live". Blondie, always ahead of the curve, created the first ever album length music video and Harry is regarded as paving the way for the generation of female recording artists who followed her. Deborah has acted to both popular and critical acclaim in numerous films, including 'Union City', 'Videodrome', 'Hairspray' and 'Heavy', among many, as well as stage plays. Her solo music career featured four successful solo albums, which include such hits as 'French Kissing in the USA', 'I Want That Man', 'In Love With Love' and 'Sweet and Low'. In recent years, she has been featured vocalist with the New York City Jazz-'Punk' group, the Jazz Passengers and recorded several CD's with them. In 1998, Blondie reformed to make a new album, 'No Exit', the seventh Blondie studio album, highlighted by the hit "Maria" which went to #1 in 14 countries. 'No Exit' sold more than two million units worldwide.
Blondie is the only American group to have had No. 1 singles in the UK in the 1970s, '80s and '90s. The band's most recent album,'The Curse of Blondie' featuring the singles 'Good Boys' and 'End To End', was released in 2004. Blondie has since completed numerous tours of the U.S., U.K., Europe and Asia. Harry is looking forward to working on new recording projects, a book and acting roles in film and on stage.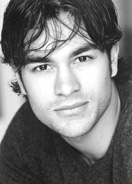 RASTA THOMAS (Achilles) was born in San Francisco, California in 1981 and raised in Riyadh, Saudi Arabia. It was evident from the beginning that he was a prodigy with a flair for the stage. Rasta Thomas studied at the world-renowned Kirov Academy in Washington D.C. As a teenager, he made dance competition history with honors including the Special Jury Prize from the 1994 Paris International Dance Competition, the Gold Medal in the Junior Men's Division of the 1996 Varna International Ballet Competition, and the Gold Medal in the Senior Men's Division of the Jackson, MS USA-IBC.
In 1995, he became a member of Le Jeune Ballet de France and in 1997, was invited to be a principal dancer with the Hartford Ballet. His guest credits include the Russian Imperial Ballet, National Ballet of China, Victor Ullate Ballet of Spain, Inoue Ballet of Japan, Ochi Ballet, Universal Ballet of Korea, Joffrey Ballet, Washington Ballet, Tulsa Ballet, Philadanco, Lines Contemporary Ballet, Complexions, and Lar Lubovitch Dance Company. He has been featured at many galas, including Le Gala Des Etoiles. In 2001, Thomas was the first American to become a member of the Kirov Ballet of St. Petersburg, Russia. In 2003, he joined Dance Theatre of Harlem as its youngest principal dancer.
Thomas has danced diverse roles including "Albrecht" in Giselle, "Basilio" in Don Quixote, "Ali" in Le Corsaire and "Death" in Debbie Allen's Soul Possessed. Television credits include a Bravo documentary in 1997, A & E's Breakfast with the Arts, Sesame Street, a featured solo during the 1999 Academy Awards, and the Spring 2000 international ad campaign for The GAP. Rasta Thomas appears as "Timmy Chambers" in the feature film, One Last Dance, starring Patrick Swayze. He most recently starred in Twyla Tharp's Broadway hit, Movin' Out.

ARTO LINDSAY (composer) has made a lifelong habit of crossing both geographical and musical borders. Born in the United States and raised in Brazil during the heyday of that country's pointedly eclectic Tropicalia movement of the 1960's, the multi-faceted songwriter/ producer/vocalist/guitarist has forged an international reputation as an artist whose work is as seductive as it is challenging. From his late '70s recordings of abrasive "no wave" through his acclaimed series of solo albums beginning in the late '90s, Lindsay has bonded rhythms and melodies from diverse cultures and genres in provocative new ways, crafting inimitable soundscapes whose impact can range from fragile pop pleasure to sheer sonic assault. His latest album, Invoke, will be available in the US on June 25, 2002. A founding member of DNA and the Ambitious Lovers, Lindsay frequently tours Japan and Europe with his own band. As a producer, Lindsay has worked with Laurie Anderson, David Byrne, Caetano Veloso and Vinicius Cantuaria, to name a few. He recently won a Latin Grammy for his production of Marisa Monte's most recent CD. On yet another front, Lindsay has long been active in the field of sound art as both a curator and as an installation artist in his own right. Frequently working with sound designer/artist Ben Rubin, Lindsay has curated music and audio art for Brazil's Carlton Arts Festival, London's Barbican Centre and the nightclub Tonic in downtown New York. In the process, he has become one of the first musicians to use Dolby Digital 5.1 surround-sound in a live concert format. Lindsay's past collaborators include German theatre director Heiner Muller, Japanese composer Ryuichi Sakamoto, American multidisciplinary artist Vito Acconci and British producer/conceptualist Brian Eno.


NICOLE EISENMAN (set designer) is a painter and installation artist who lives in New York City. She shows with Leo Koenig Gallery in NYC and Shoshana Wayne Gallery in Los Angeles. She has won numerous awards including the Simon Guggenheim grant and the Joan Mitchell Foundation grant. She was represented in The American Century: Art & Culture 1900-2000, at the Whitney Museum of American Art in New York and has shown at the New Musuem of Contemporary Art in New York, the Museum of Contemporary Art and the Institute of Contemporary Art in London, the Stedelijk Museum in Amsterdam, and the San Francisco Museum of Art.
PILAR LIMOSNER (costume designer) Credits include Martha @…, Images for David Parsons at the Joyce, and for Karole Armitage Le Stances A Sophie at the Joyce, I Had A Dream for Ballet of Monte Carlo, The Dog Is Us for the Deutche Opera, Sheherazade for the Maggio Danza di Firenze, and Predator's Balls at BAM. Her other theater work includes Eric Bogosian's Talk Radio, Ann Magnuson's You Could Be Home Now, both at the Public Theater, and At Jennie Richee for Ridge Street Theater at the MCA in Chicago for which she won an OBIE. Ms. Limosner also designs for feature films. Her credits include Martha's World, The Yards, Down To You, and the soon to be released The Guru.
LES DICKERT (lighting designer) Previous designs for White Oak Dance Project include Yvonne full length After Many a Summer Dies the Swan, Trisha Brown's Homemade, Mark Morris' Pecacadillos, Lucinda Childs' Largo, and Steve Paxton's O (for Simone) and Earlyman Deadlines. He recently designed Chacony for Lucinda Childs and a remount of Erik Hawkins Early Floating. Other work in dance includes designs for David Gordon, Jonothan Lunn, Company Appels, Min Tanaka, Jacob's Pillow Dance Festival, Bayerisches Staatsballet, The Australian Ballet, and the Beijing Folk Dance Company. Regional Theater includes Great Lakes Theater Festival, Triad Stage, Portland Stage, Merrimack Repertory, Spoleto Festival, Connecticut Grand Opera, and the Yale Repertory Theater. He is a graduate of the Yale School of Drama.

© COPYRIGHT MOVE-IT PRODUCTIONS 2001-2014.
'MARTHA @', 'RICHARD MOVE', 'MOVEOPOLIS!' and 'MOVE-IT' are trademarks of MOVE-IT PRODUCTIONS, INC.
All International Rights Reserved.
powered by Planning Success, Colorado - USA planningsuccess@live.com